Cyclops 2D & 1D Rack Barcode Reader
The Ziath Cyclops is a camera-based barcode reader that illuminates and then reads both linear (1D) and 2D barcodes printed on the end of a rack for 2D bar-coded tubes.
This rack i.d. is then reported together with the individual tube i.ds when the full rack is read by the instrument. The Cyclops is not required if the racks in use have an "orientation barcode", sometimes called a "97th code" underneath, as this can be read by the Ziath Datapaq or DP5 software at the same time as the tubes.
The Cyclops comes with a dedicated bracket for each of the three Ziath camera-based rack readers: Mirage, Express or Cube. These brackets are NOT interchangeable, so please ensure that you choose the correct part number for your instrument.
They simply attached to the scanner using the feet of the instrument to secure them. The Cyclops device slides into position and is held in place by a thumb-wheel.
Key features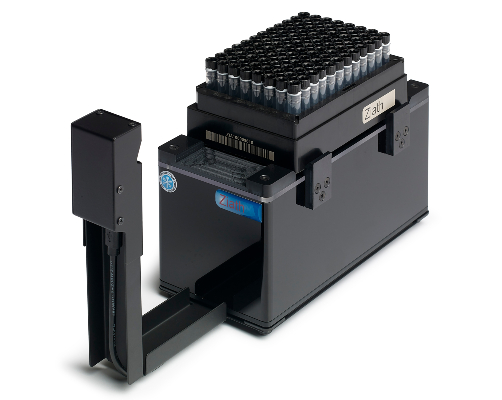 Use with Ziath DataPaq™ 2D barcode rack scanners – Mirage, Express & Cube
Very quick and easy to install. No assembly required
Reads in milliseconds
Wide range of placement options on each instrument
Quick & easy installation, USB connection to operating laptop or PC
Essential tool for sample tracking
Attaches to the rack scanner using dedicated robust bracket
Compatible with Windows 10 &11
Easy to Set-Up and Easy to Use
The DataPaq™ Linear Rack Barcode Scanner is very simple to attach to existing 2D scanners, and our DataPaq™ software makes it simple to export the linear (rack) barcode data and the tube data to Excel, text, csv, XML, JSON or Python. Scanned images can also be saved. The linear rack scan takes less than one second and the scanner is powered and controlled by USB cable, so needs no additional power cables.